"There are elements like this that deserve special attention when furnishing your interior. Choosing a lamp, a new vase or the painting of the entrance: OK. But choose your sofa, the one that will accommodate our rest time, watch Netflix with us, listen to our passionate discussions, receive our friends for a drink, potentially put one or the other guest to sleep, host the cabins and other children's games, support a few hours of telecommuting here and undergo a few meals on the go there: he will live on it, things, our sofa!
And all these technical features that it must meet, are without counting the aesthetic requirements that we will add to it. Add to that the wide choice that exists on the market, the key place it will take in your stay (hence the importance of not being wrong), the price ranges that complicate the situation ... and that's it , I lost you all.
This is why I propose in this article to take stock of the criteria to be taken into consideration, the points to be aware of, the different possibilities on the market, and to share with you my experienced advice to help you make your choice, one that will suit your lifestyle, one that you won't regret.
I also share with you the choice I made, for the Californian House: you will have been able to follow this on Instagram, I turned to my pro supplier Vano Home Interiors, because he met my own criteria that I develops you lower. It is a high-end Belgian fabric publisher, which offers its products on window coverings, cushions, sofas, armchairs and ottomans. Vano works with several Belgian manufacturers and all models are customizable with their wide range of fabrics, and according to the desired dimensions / modules. Real tailor-made! See you at the end of the article for all the details.
To be able to establish your own criteria, the first step is to list all the activities you will do on this sofa: reading, napping, meals, games, alone, as a couple or with others, in the evening or during the day, ... it will help you. to consider all configurations, and therefore the needs that your sofa must meet! The second step is to define a budget for your sofa investment: do you prefer to invest little to be able to meet the needs of the moment, and change in a few years? Or is it more of a long-term investment that you are considering?
Is the list ready? The budget is fixed? Here are my tips!
THE DIFFERENT CRITERIA OF CHOICE

In order to make an informed choice, my organized psycho-rigid mind and I like to make lists. When I accompany clients in choosing their sofa, it is such a central element in their home and in their daily life that I ask them a lot of questions in order to be able to guide them correctly, to advise them skillfully. Here I have summarized the essential criteria, the questions to ask yourself, a sort of checklist to deduce your ideal sofa.

1. THE MODEL:

Be careful with the received idea (and I speak from experience, if you knew the number of customers who tell me they are disappointed with their previous choice ...) that a chaise longue or corner sofa is more user-friendly: there is ultimately less space. of people seated on a straight sofa + armchair next to it! Because no one really sits in the corner, their knees are too close,… The chaise longue sofa (or corner sofa if you have more space) is therefore more for stretching out your legs, watching television alone or away from home. 2-3.
If you prefer the friendly atmosphere of long aperitifs with friends around the coffee table, choose seats that face each other: two straight sofas, or a straight sofa + one or more armchair (s) around it. Easy to move, the armchairs allow more modularity. My tip if you like both? Do not choose between your friends or Netflix, but prefer an ottoman that matches the right sofa: you can place it in front of the sofa to extend your legs, and take it off to make additional seating. Or even better: opt for a modular sofa to be able to create, over the course of the occasions, several configurations.
2. THE COLOR:

It can depend on a lot of things (the walls around, the other furniture, the light, your style, ...), even if overall the sofa being the central element of the living room, it is a little him who will dictate the atmosphere .
A light sofa will bring a lot of light and a certain chic while remaining "holiday, relaxing atmosphere", but will be more messy (perhaps less suitable with very young children or animals that climb on the sofas?). In these cases, there are still solutions: I recommend the removable cover and a mottled fabric: it is more permissive for stains. Or, opt for a suitable fabric, such as the High Performance or Easy Care finish that I chose from Vano.
A dark sofa will be very elegant, and will work well with rather light or well colored walls (be careful with the marriage of dark shades between them). However, some stains are very visible on dark textiles, especially milk, not to mention animal hair. One way to lighten a dark sofa visually is to choose it with legs rather than a "block" effect.
I mostly recommend that my clients choose a neutral-colored sofa: it's a big element in THE central living room of the house, so there is a risk of getting bored of a color more quickly in this area. Neutral colors are more timeless. And it's always easier (and more economical) to replace a few cushions and decorative accessories, than a whole sofa if you've grown bored. On the other hand, I strongly encourage you to choose complementary seats in color: the armchair in front of the sofa, see a sofa in a separate TV room, in an office, ... There, it's less risky and therefore the opportunity to s 'have fun!
Finally, if you want to match your sofa with a colorful wall, here are some combinations that work well:

• combine a camel sofa on a forest green wall
• combine blue and green (green sofa on blue wall, or vice versa)
• combine a white or beige sofa on a warm colored wall (terracotta, brick, ocher, camel, mustard, old pink, etc.)
• associate a light gray sofa on a cold colored wall (verdigris, midnight blue, blue-gray, forest green, etc.)
• associate a light neutral sofa with a dark wall, or a dark sofa with a light wall: in general, there is little chance of going wrong by working on shades of the opposite intensity! It's more obvious anyway than working on two shades of similar intensity.
3. THE MATERIAL:

The choice of fabric will subtly impact the atmosphere: it's not the first thing you'll see, but a fabric can provide more warmth or reinforce a chic side, add a bohemian touch, ...
Here are some tips, in bulk:

• Softer fabrics like linen will bring a more bohemian touch, more soothing, less serious, more country house.
• The mottled fabrics will be easier to maintain, because the micro-tasks will be less visible (This is what I always recommend in the case of a light sofa, to play down this choice a little and make everyday life easier).
• Velvet instantly brings an elegant, slightly vintage side (to see if you want to reinforce this side with the shape of the sofa or on the contrary choose a very contemporary sofa in its shape to calm things down), but it hangs more easily. animal hair and it leaves the seat marks (this is of course erased with the back of the hand, but we never have a perfect "magazine" look every day!). Also note that this fabric has a rather "winter" connotation, and is therefore perhaps less suitable for regions where it can be very hot in summer? Very trendy alternative at the moment: corduroy!
• The (imitation) leather is easy to maintain, even if in the long run it has a tendency to crack: that can be its charm especially on pretty Chesterfields, but that's to know. Favor good quality for this type of coating.
• Curly wool: very trendy for a few years, it is a pretty fabric even if strongly associated with a fashion, and therefore potentially less timeless: perhaps more for an armchair next to it, than for the whole sofa?
• Fabrics with technical characteristics: they are more and more popular because they meet our current needs, and quite simply make our lives easier. I am thinking of Vano's Easy Care and High Performance fabrics, but also fabrics specifically resistant to light, stains, bleach, etc. It's up to you to adapt according to your needs and requirements. "
... Quickly discover the rest of Noémie Meijer's article from Pierre Papier Ciseaux on her blog!
We invite you to join us on our Instagram page, we present you beautiful models with our "high-end" upholstery fabrics!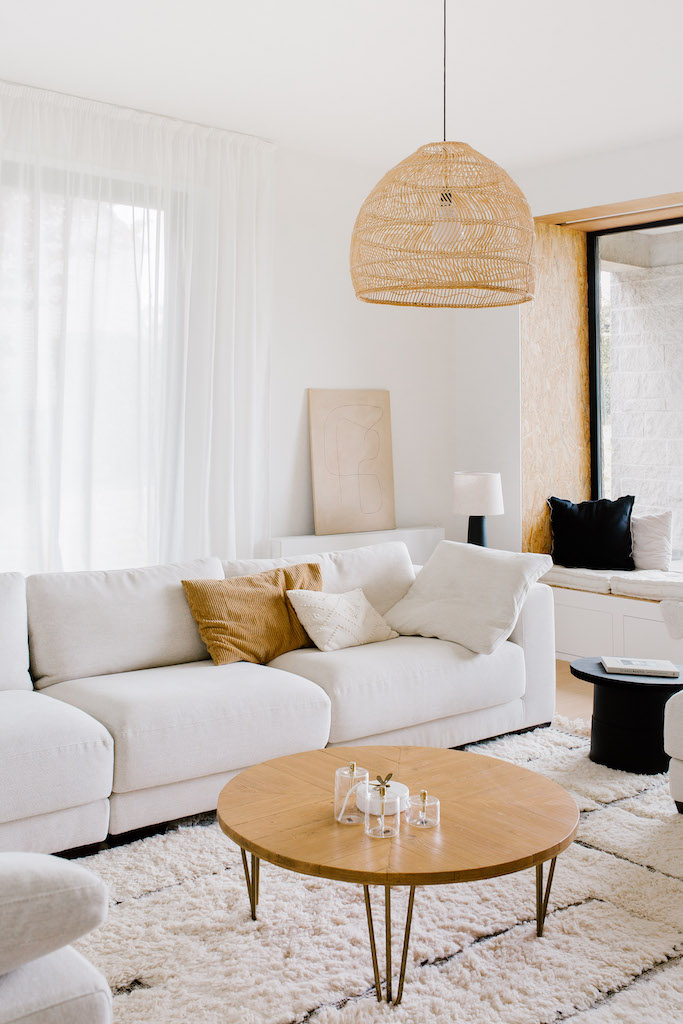 (c) pictures Elodie Deceuninck